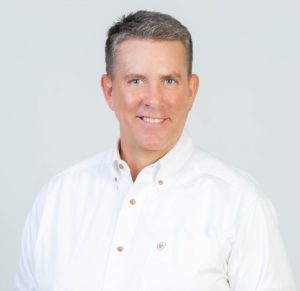 JIM MACKEY…MON-FRI 11A-3P
Hi my name is Jim. I'm from a small town in Illinois with a childhood dream of someday training dolphins at Sea World. (I may have watched the movie "Free Willy" a few too many times) That was until my high school speech teacher pulled me aside one day and said quote "You should be on the RADIO"! That's all it took to abandon my childhood dreams and pursue a career in broadcasting.
I've traveled the country and the radio dial entertaining anybody who will listen. I've lived and worked in Illinois, Wisconsin, Missouri, Arkansas, Texas, Nebraska, and Indiana…finally calling Michiana home, where I met and married my wife Kelli. We have 2 very spoiled fur babies, Bella Sue (a Golden Retriever) and Lucy Sue (a Boxer). I have 3 daughters and a proud grandpa to 4 grand babies.
I'm a die-hard sports fan…GO Cubs, Bears, Bulls, and Hawks! And without a doubt…GO NOTRE DAME!
I have several accomplishments I'm proud of. I was the champion of my 3rd grade spelling bee. Just don't ask me to spell "RESTAURANT". I have moonlighted as a "Hand Model" in Farm & Fleet catalogs. I am the 2018 American Cancer Society "Mr. Relay" title holder and have received and been nominated for several broadcasting awards, including CMA Personality of the Year. I hold several Michiana charities close to my heart, including St. Jude Children's Research Hospital where I've helped raise millions of dollars for the kid's at St. Jude.
If you were to ask me who my favorite country artist is, I can't name just one. But I've been known to hang out on the deck with a cold beverage of choice checking out Carrie Underwood's Instagram and telling Alexa to play "Ring of Fire"! When I'm not on the radio, I'm probably DJ'ing a wedding somewhere. I truly appreciate all the love and support Michiana has given me and thank you for listening.